Marc Benno Recalls His Session on the Doors' 'L.A. Woman'
By James Rotondi 27 days ago
Answering Bruce Botnick's call, the Texas blues player had a brief but fruitful collaboration with Robby Krieger on guitar.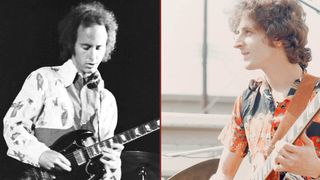 (Image credit: (Robby Krieger) Michael Ochs Archives/Getty Images, (Marc Benno) Ginny Winn/Michael Ochs Archives/Getty Images)
The track is called "Take Me Down Easy," off of Marc Benno and the Nightcrawlers' 1973 opus, Crawlin', very possibly the best blues-rock album of the early 1970s you've never heard.
Like every track on the album, it features heavyweight singer/guitarist Benno and his band – including noted drummer/singer Doyle Bramhall – knocking out some of the most fluid and sophisticated blues-rock this side of the Allman Brothers and Leon Russell.
Indeed, Russell is one of the many artists Benno has collaborated with over the years, along with Rita Coolidge, Eric Clapton, J.J Cale, and, of course, the Doors, with whom he recorded four songs, including the title track, at the sessions for L.A. Woman. (Never released by A&M, Benno's Crawlin' was finally issued on his own Texasize imprint in 2006.)
I almost forgot: The smokin' teenage Texas lead player on "Take Me Down Easy" and the rest of Crawlin'? A lanky kid from Dallas named Stevie Ray Vaughan. RECOMMENDED VIDEOS FOR YOU…CLOSEhttps://imasdk.googleapis.com/js/core/bridge3.480.1_en.html#goog_1683792242Volume 0% PLAY SOUND
"The very first time I met Stevie, I was playing a gig down on Cole Street in Dallas in the late '60s," Benno recalls. "In walks this kid, about 13-years-old, 90-pounds dripping wet in a T-shirt, and he says, 'Can I sit in?' I said, 'No, I don't think so.' He said, 'Well, I'm Jimmie Vaughan's little brother.' I said, 'Here, you can play this guitar!'"https://www.youtube.com/embed/duK5TYT6cw8
In late 1970, when Bruce Botnick invited Benno to play on a Doors session, the guitarist wasn't all that familiar with the band, being a devoted blues acolyte of Texas masters like Freddie King and Lightnin' Hopkins, with whom he'd serve as musical director a few years later.
While in the Doors Workshop with the band, Benno had been warming up on the driving riff from the Don Nix blues song "Going Down" – a strong 16th-note bass pulse in A with a descending A-G-D-C line – which was covered by Freddie King around the same time.
Morrison, according to Benno, liked the riff, and suggested Benno show it to Robby Krieger. "When I showed Robby the 'Going Down' riff," Benno remembers, "he took it in a very different direction right away. It was cool, though: Robby's California style interpreting a Texas blues riff. We started playing it Robby's way, and it really took off."
Krieger not only altered the rhythm of the descending lick, playing whole notes rather than half notes – he changed the harmony, too. The original riff is essentially an A7 chord underneath with a bluesy lick hitting a minor 3rd on top. But Krieger, a jazz-head who loved sixth chords, made the descending line more explicitly major, even Mixolydian, by skipping the third altogether and adding the major sixth and resolving up to the fifth: A, G, F#, D, E.
He'd even add a high harmony in thirds. This freed up Benno to drive the verses with a strong A-major triad rhythm, leaving out the seventh. https://www.youtube.com/embed/bJuDD93JbOw
"With Jerry Scheff and Marc Benno, 'L.A. Woman' just fucking exploded in the recording studio," Ray Manzarek told writer Dave DiMartino in 2001. "We smoked a joint and locked in."
The story behind the 1954 Gibson Les Paul goldtop that Benno played on that Doors session is no less stoned, if not quite immaculate. Benno bought the guitar for $400 from legendary songwriter J.J Cale. But not long after Benno used it to track with the Doors, the goldtop got away from him in spectacular style. Advertisementhttps://b0c398006502432567280bb3caecefaf.safeframe.googlesyndication.com/safeframe/1-0-38/html/container.html
"I was living in L.A. across from the original Guitar Center in Hollywood in a little house where I shouldn't have been. Just a bunch of guys getting' blasted all the time. One day, some guy walked right through the back door, held a gun to my head, picked up my guitar in the case, and told me, 'Don't move or I'll kill you.'"
"I thought, Good night, what a way to die," Benno marvels. "Well, the guy ran out the back door with that Les Paul, and I never saw it again." Now, that's the blues.
To learn more about Marc Benno's solo albums and later albums with Marc Benno and the Blues Blasters, and to purchase a copy of his rock and roll memoir, The Road to L.A. Woman, visit Marc Benno.